Dear Member,
First and foremost, we want to thank you for your continued support of CDTA. We're so proud to have you as a valued member! Our organization truly wouldn't be the same without you.
It has been an exciting and busy year for CDTA National. We were able to accomplish so many initiatives:
We became a Truly National CDTA as of July 1, 2022 and developed National Bylaws, Policies and Handbooks.
We held our first National AGM across the country.
Our National Examining Committees and Examiners' Panel were created.
We held our annual Summer Syllabus Intensives via Zoom
We developed the CDTA Education Centre
We took part in Toronto Dance Expo as a truly National CDTA.
Now this fall, we are getting ready to elect our new Regional Teams!
We wanted to let you know that your CDTA National membership is expiring soon, but we hope you'll join us again next year! We have many upcoming opportunities for you to explore. Renewing is as easy as ever with these options:
Click below and follow the prompts
For those who attended our presentation at the Toronto Dance Teacher Expo, please disregard this email.
Membership renewals are due by Sept 1, 2022. As of Oct 1, 2022, your membership and online profile will be suspended until such time that membership dues are received. You must be a member in good standing to enter students in examinations, attend courses and make online purchases for a reduced rate.
If you have any questions or suggestions, please contact us at
cdta@cdtanational.ca
. We'd love to hear your feedback!
Kind regards,
Paulette Puetz (Office/Financial Administrator)
Shannon Vallee (President)
Julie Dionne (Vice President/Website & Social Media Director)
Barbara Dearborn (Secretary-Treasurer)
Melody L. Drewitz-Van Veen (Past President/Exam Registrar)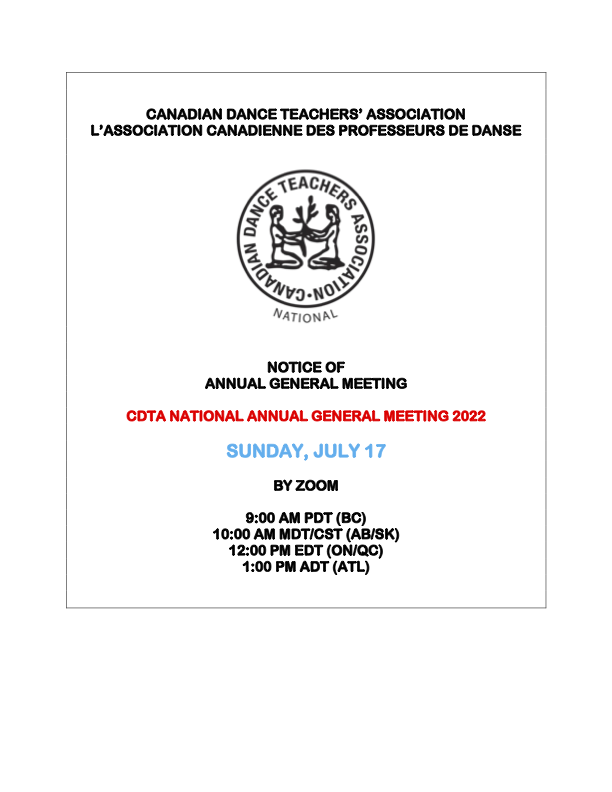 Follow us on Facebook and Instagram to receive all the information on our International Dance Day Extravaganza!

HOORAY! As of July 1st, 2022 we become a truly
NATIONAL ASSOCIATION!We will be holding our 
"Annual Syllabus Intensive for Teachers"